Government of Aruba visits Air Burners, Inc. in Palm City, Florida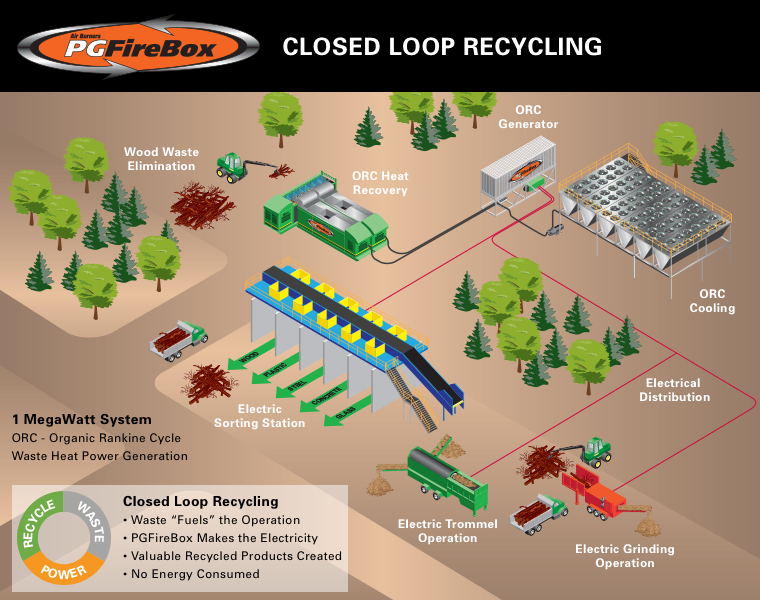 The Air Burners employees at the Palm City, Florida factory were pleased and honored to meet representatives of the Aruban Government, in particular The Honorable Mike de Meza, Vice-Prime Minister and Minister of Economic Affairs, Communication, Energy and Environment of Aruba. The Aruban government is considering the purchase of additional Air Burners machines to help eliminate wood and vegetative waste on this island nation which is part of The Kingdom of the Netherlands. They are considering the purchase of the new Air Burners PGFireBox, a revolutionary biomass power generating system.
The PGFireBox generates the electrical power to run multiple recycling machines. See "Closed Loop Recycling" diagram here or visit www.PGFireBox.com for more details. In this case, the wood and vegetative waste along with all the other waste components are sorted at an electrically driven sorting station, whereby the majority of the wood waste is directed to the PGFireBox to generate electricity. Some of the wood waste is directed to an electrically driven chipper to make landscape mulch. Recycled concrete and stone are crushed by an electrically driven rock crusher. The crushed stone is then sent to an electrically driven trommel screen that sorts the rock by size for resale. This recycling scheme can eliminate up to 10 tons per hour of vegetative waste and create at least four marketable products: mulch, aggregate, biochar and compost additive. The PGFireBox will generate 1 MegaWatt (MW) of electricity, and power not consumed in the recycling operations can be sold back to the national power grid.
Closing the loop on recycling. The materials come into this center as waste and leave restyled as marketable products, all without consuming any outside energy. It the most economical and environmentally efficient recycling method available.