BurnBoss®
Above-Ground Air Curtain Burner
The FireBox is raised and lowered by a hydraulic lift system. It is designed for the high temperature burning of forest slash, agricultural vegetative waste, land-clearing debris, green waste, storm debris, invasive species, contraband and other combustible waste streams in compliance with the requirements of U.S. EPA 40CFR60 or other regionally applicable regulations.

The BurnBoss operating principle is the same as for all Air Burners FireBox models, and the average throughput of this machine is 5 to 10 cubic yards of typical forest slash per hour. This machine is shipped from the factory completely assembled and ready for immediate use. The BurnBoss is also useful for disaster recovery and Homeland Security contingencies.
BurnBoss T24
The patented BurnBoss was originally designed to support the U.S. Forest Service and its effort to prevent wildfires. Today, this advanced wood waste reduction equipment is used in many applications, including construction and agriculture. The BurnBoss is a self-contained, completely assembled above-ground Air Curtain Burner with a refractory lined burn-container. A small onboard diesel engine powers the air curtain fan.
Get A Quote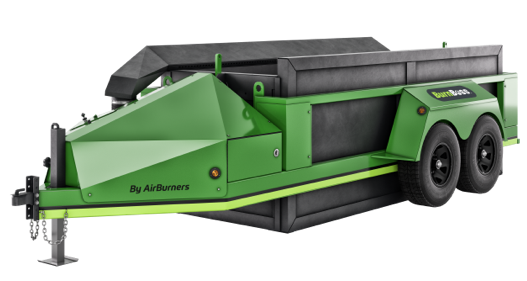 | | |
| --- | --- |
| POWER | Two-cylinder liquid cooled diesel engine, 12.5 HP (Kubota Z482-E3 or equivalent), full enclosure; security locks around power source; Emissions certified U.S. EPA Tier4. |
| OVERALL SIZE L x W x H | 19' 8" × 7' 8" × 5' 8"[6 m x 2.3 m x 1.7 m] |
| FIREBOX L x W x H | 12' × 4' × 4'[3.7 m x 1.2 m x 1.2 m] |
| WEIGHT | 9,900 lbs[4,500 kg] |
| FUEL CONSUMPTION | 0.35 gal/hr[1.3 L/hr] |
| THROUGH-PUT | 5-10 cubic yards/hr |
| PRICE | $85,525 |
Self-Contained,Completely Assembled
The patented BurnBoss is the first trailerable FireBox. This unit is self-contained and fully assembled, supported by a rugged steel frame. Tandem axles with custom designed torsion modules provide a safe and comfortable ride while towing. This unit can be towed with a standard heavy-duty pickup truck. The BurnBoss T24 is shipped with all lighting, reflectors and trailer VIN required for licensing in most states and in many countries outside the USA.
The FireBox uses the special Air Burners thermal ceramic panels to line the burn chamber. These panels protect the frame and running gear.
The BurnBoss is towed to site, the FireBox is lowered, and the burn begins. Once the burning is complete, the truck is connected, the FireBox is raised, and the ash is left behind to be turned into the soil or scooped up for other uses. A small U.S. EPA Tier 4 diesel engine powers this system. At full power, it consumes a third of a gallon of diesel fuel per hour. This unit is ideal for logging roads and vineyards due to its high portability and compact size.