Easy Transport Worldwide
AVAILABLE IN ELECTRIC & DIESEL
The fully assembled portable FireBox was invented by Air Burners. Our forest are the only land clearing equipment of this kind tested by the U.S. EPA, the U.S. Forest Service, the U.S. Department of Energy, and the U.S. Military to prove their specifications and performance, giving you confidence our machines work.
The Air Burners FireBox is the most economical and environmentally sound method of eliminating wood and vegetative waste. The FireBox will reduce your waste to approximately two percent of its original weight, leaving you with a clean carbon ash that can be turned into the local soil or trucked to the landfill. With other equipment, grinding and hauling to the landfill are a big part of the forest-clearing job. With the FireBox, land clearing is much easier: you might make one trip a week to the landfill. The diesel-powered biomass burning machines are efficient. The S100 will only consume 2.4 gallons of diesel fuel at full operating speed, and no other fuels are required. The FireBox will save you money on your waste elimination.
The 100 series unit has a frame size of approximately 7 feet high by 7 feet wide. We currently offer two machine sizes in the 100 series: the S116 & S119. The S116 has a manifold length of 16 feet. The S119 has a manifold length of 19 feet.
This machine arrives fully assembled and tested, ready for operation. The 100 series machines do not require over-size load permits to travel on the highways. We ship these machines all over the world. The 100 series is designed to fit in an ocean-shipping container fully assembled. For over the road transportation, they typically travel by flat deck or drop deck trailers. The FireBox can by either dragged on to the trailer with a winch or lifted on to the trailer. Like all of our FireBoxes, this unit can be dragged around the site on its skid base. The S100s have two doors at the rear for ash removal. Waste throughput for the S116 = 2 to 4 tons per hour* and S119 = 3 to 5 tons per hour.
FireBox 119
Four cylinder Turbo Diesel Engine 59 HP (Kubota V2403-TE or equivalent engine); Full enclosure; Security locks; Emission certified US EPA Tier4 compliant; Engine mounted PTO
Learn More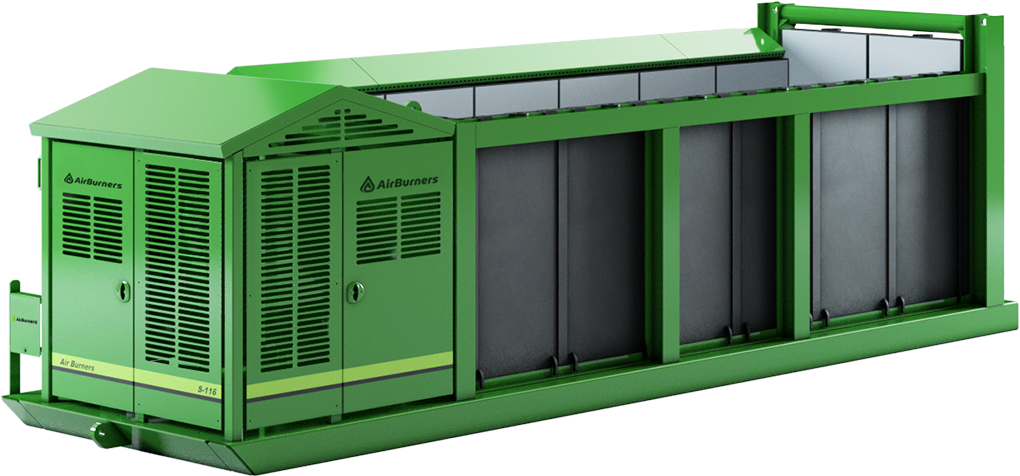 FireBox 116
Four cylinder Turbo Diesel Engine 59 HP (Kubota V2403-TE or equivalent engine); Full enclosure; Security locks; Emission certified US EPA Tier4 compliant; Engine mounted PTO
Learn More