FireBox S223
The S223 FireBox is a recent addition in the lineup of our 200 Series. It is a good choice for placements at landfills or agricultural processing facilities, such as almond or walnut processors. The S223E would be ideal for such semi-stationary applications, as the electric motor requires very little ongoing maintenance and the S223E may be more economical to operate than the Diesel version counterpart.
Get A Quote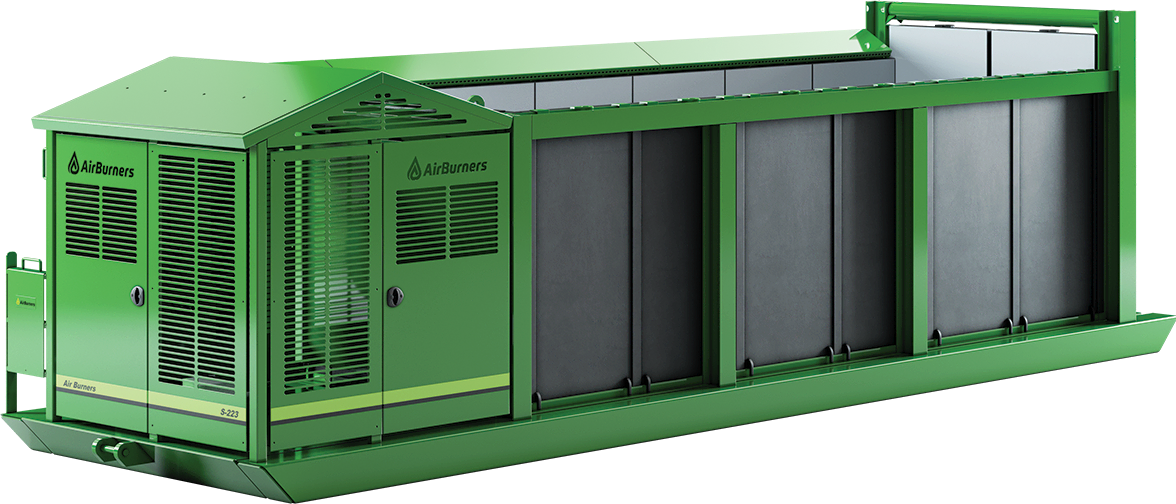 | | |
| --- | --- |
| POWER | Four-cylinder Turbo Diesel Engine approx. 74 HP, HATZ Model 3H50TIC (Does not re-quire DEF) or equivalent engine; Emissions certified US EPA Tier 4 FINAL; Engine mounted PTO |
| OVERALL SIZE L x W x H | 33' 3" × 8' 6" × 8' 6"[10.2m × 2.6m × 2.6m] |
| FIREBOX L x W x H | 22' 11" × 6' 2" × 7' 1"[7m × 1.9m × 2.2m] |
| WEIGHT | 40,250 lbs.[18,260kg] |
| FUEL CONSUMPTION | Approx. 2.0 gal/hr.[7.6 L/hr.] |
| THROUGH-PUT | 7-9 Tons/Hour |
FireBox S220
The S220 FireBox is a very popular machine used worldwide. Its large size offers excellent throughput, yet its dimensions and weight make it possible to maneuver the machine around the field or forest logging site. For special applications, it is sometimes purchased with the optional steel floor or ember screen. The S220, as all our machines, is shipped with QR Code decals that allow the operator to quickly download the latest appropriate operating manual and service information with a smartphone.
Get A Quote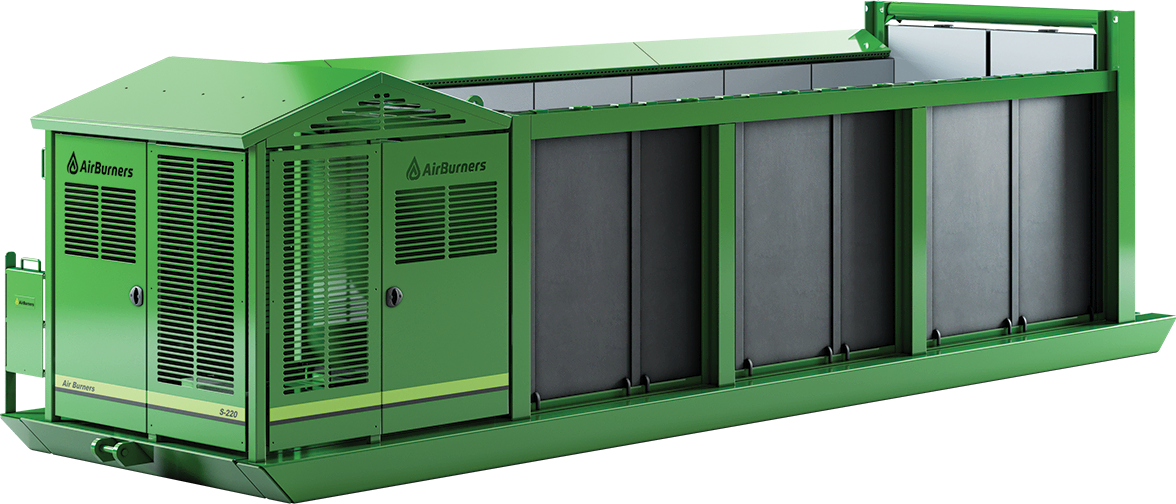 | | |
| --- | --- |
| POWER | We offer two options: (1) Four-cylinder Turbo Diesel Engine approx. 74 HP, HATZ Model 3H50TIC (Requires no DEF) or equivalent engine; Emissions certified US EPA Tier 4 FINAL; Engine mounted PTO. (2) Three-phase electric motor with VFD control panel. |
| OVERALL SIZE L x W x H | 30' 1" × 8' 6" × 8' 6"[9.2 m x 2.6 m x 2.6 m] |
| FIREBOX L x W x H | 19' 8" × 6' 2" × 7' 1"[6 m x 1.9 m x 2.6 m] |
| WEIGHT | 36,650 lbs[16,620 kg] |
| FUEL CONSUMPTION | 2.0 gal/hr[7.6 L/hr] |
| THROUGH-PUT | 5-7 tons/hr |