How to Save Money on Land Clearing: A Cost Breakdown Between Grinding & Hauling vs. FireBox
The goal is to eliminate unwanted wood waste quickly and cost- efficiently without harming the environment. Air Burners does all that and more. Unlike grinding or chipping, our air curtain technology burns 40x faster than open burning and requires no chipping, hauling, or permanent facilities. As a result, Air Burners FireBox costs less to operate than the typical Grinder and delivers better results that positively impact your bottom line and the fight against climate change.
A big impact on cost savings and the environment.
Air Burners FireBox uses less fuel than the typical Grinder, saving money, time, and the environment. In this example for 100 tons of waste, the FireBox S330 runs up to 8 hours on just 20 gallons of diesel versus the grinder's 6 hours on 180 gallons of fuel.
Considering how expensive diesel fuel is today, the cost savings add up quickly.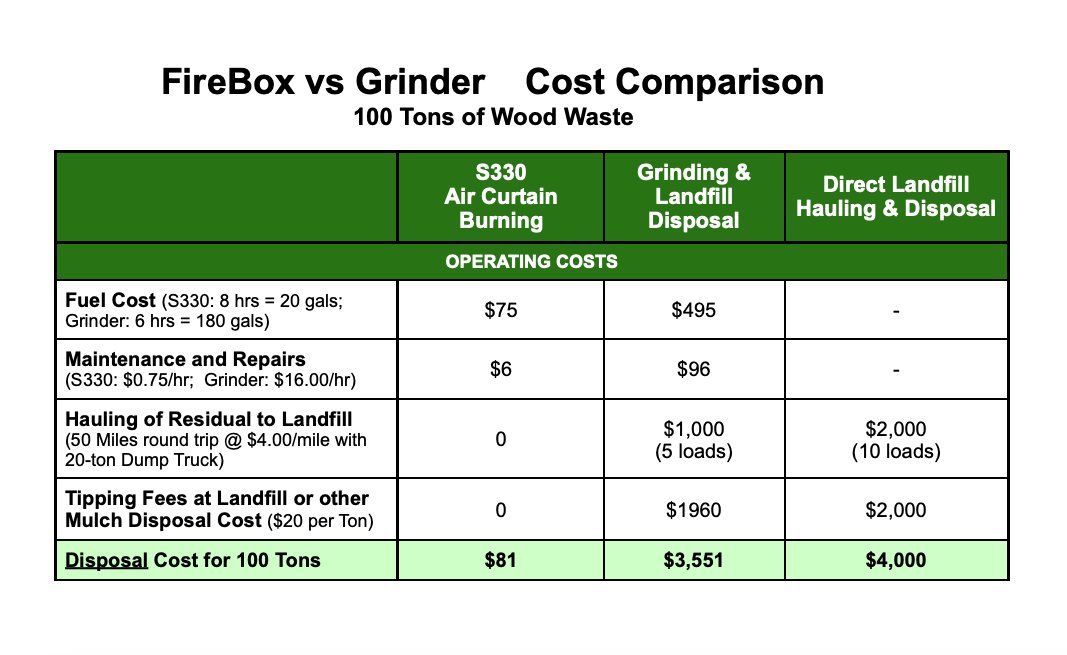 Hauling tons versus tons of savings.
With the FireBox, there's no grinding, so there's no landfill hauling, which adds even more cost-savings to your operations. We're talking significant savings, too. As in $10/hour operating costs for the FireBox versus thousands of dollars spent grinding and hauling to landfills. But the savings don't stop there. The FireBox eliminates wood onsite, so there is no time-wasting, fuel- consuming trips to the landfill—and no tipping fees.

The best burn for your buck.
The FireBox adds up to a lot of savings. Compared to Grinding and landfill disposal, the total cost to eliminate 100 tons of unwanted wood waste is $81. The high throughput—up to 13+ tons per hour means you get more work done faster and for less.
There's health safety—and cost savings in numbers.
Our air curtain technology burns 40x faster than open burning. The scientifically tested and proven air pollution-control technology reduces particulate matter (PM), releasing only non- carcinogenic carbon. On the other hand, grinding produces large amounts of harmful PM and wood dust—a proven cancer- causing byproduct of the grinding—that can expose workers to serious illness. Air Burner machines eliminate tons of unwanted wood waste onsite, leaving behind biochar and nutrient-rich carbon ash you can return to the soil or sell. The grinding generates tons of wood chips that require lots of time and money to haul to landfills. The lowest operating costs and low capital outlay means, the FireBox gets more done for less without harming the environment.
Grinding is a heavy burden on Mother Nature.
Our environment pays a hefty price for grinding—we collect 70 million tons of wood waste in the US yearly but only recycle 48%. The more biomass waste we dispose of using our air pollution-control technology, the better shape we'll leave our planet.
The FireBox S-Series
Air Burners are the end solution to cleanly and cost-efficiently eliminating unwanted wood and vegetative waste without grinding, chipping, or hauling. The advanced air curtain technology burns 40x faster than open burning and accepts whole trees, logs, stumps, root balls, slash piles, wooden crates, and pallets. The self-contained, above-ground air curtain burners arrive fully assembled and ready to work starting on day one. The world's most proven wood waste burners require no permanent facilities, so relocation is easy. The portable FireBox goes wherever the job takes you, turning biomass waste into biochar onsite. You can sell the valuable byproduct or use the restorative carbon ash to amend degraded soil. Growers use it to boost healthy vegetable and fruit crop yields, while land managers turn to its rich, soil-restorative properties to enrich forests and help mitigate wildfires.
Learn more about the FireBox S-Series (S-100, S-200, and S-300), including the Roll-Off Firebox that fits all ANSI spec trucks, and our Boss Series—TrackBoss, BurnBoss, and CharBoss—the world's first mobile onsite biochar production system. And explore Air Burners PGFireBox and BioCharger: a powerful new combination that closes the energy loop so you can work on or off-grid. PGFireBox eliminates unprocessed biomass waste, while the BioCharger keeps your EVs and battery-operated machinery charged.
Air Burners machines can help your business reduce operating costs and fight climate change. Together, we can make a world of difference.